Embedded EWM vs. StockRoom Management
My colleague Sandra has already explained in her blog post the advantages for your business processes when switching from SAP R3 ECC to an S/4 system. At this point, I would like to shed light on the possibilities for mapping logistics processes in S/4.
As things stand, the maintenance of the SAP Business Suite and thus also of WM has been extended until the end of 2027. Extended maintenance (for a fee) will be possible until the end of 2030.
In the course of a transformation process to an SAP S/4, there are now several options for mapping your logistics processes.
Many customers with an ECC system shy away from the effort of also starting an SAP EWM implementation project during a transformation to an S/4. For this reason, SAP has released the SAP S/4HANA Stock Room Management (StRM) module.
I would like to compare this with the two embedded EWM variants in the following. I will leave out the decentralized EWM in this case.
In both EWM embedded and StRM, the user logs on to the ERP system. There is no need for user administration in an additional system. For the EWM embedded basic and the StRM there are no separate license costs. For the EWM embedded advanced an additional EWM license must be purchased.
So what are the basic advantages and disadvantages of these systems?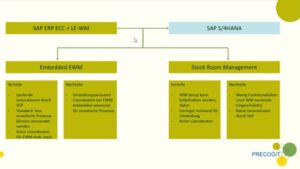 By using the identical data model to the classic LE-WM (coding, user exits, tables), the existing WM installation can continue to be used in StRM. However, the following functions are no longer available in StRM
– Task & Resource Management (WM-TRM)
– Cross-Docking (WM-CD)
– Wave Management (WM-TFM-CP)
– Yard Management (WM-YM)
– Value Added Services (WM-VAS)
– Decentralized WM (WM-DWM)
– Interface to the warehouse control computer (WM-LSR)
EWM embedded basic maps all standard logistics processes from goods receipt to internal warehouse processes to goods issue. Inventory management, stocktaking and reporting have not been forgotten either.
In addition to the functionalities of the basic variant, the EWM embedded advanced offers functions for
– material flow system
– yard management
– cross docking
– Wave Management
– Labor Management
– Value Added Services
– Kitting
– Dock Apointment Scheduling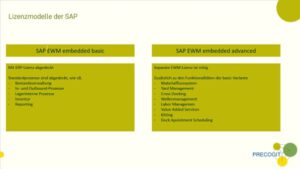 For the SRM vs. EWM embedded decision-making, I have compared the functions of SRM to those of EWM embedded in the following tables.
SAP S/4HANA Stock Room Management

SAP EWM embedded

Organizational levels

Warehouse number

three-digit

four-digit

Warehouse type

three-digit

four-digit

Warehouse area

three-digit

four-digit

Storage bin

10-digit

18-digit

Gates

Yes

Yes

Staging areas

Yes

Yes

Workplaces

No

Yes

Activity area

No

Yes

Storage units

To be activated per warehouse type

Replaced by HU management

HU-Management

Activation at storage location level

Activation at warehous type level

Serial numbers

only with HUs

Also without HUs, visible at storage bin / product level

Stock types

Classical(free, Q, blocked)

Further specifications possible (in storage, warehoused,…)

Customizing Lagertypsuchreihenfolge

Max. 30 LTyp, warehouse areas, storage bin types, Storage unit type

no limits

Further optimization possibilities (sorting, storage groups)

Production supply

Order-related, box part, call-off part, manual

Additional production material request

Fixed bins

One fixed bin per material / storage type

More fixed bin per material / storage type

Dynamic storage bins

Yes

Replaced by stock identification

Usability

Different transactions per activity

Central warehouse management monitor, Fiori Apps

Packaging planning in goods issue

No

Yes

Consolidation / deconsolidation

No

Yes

Kit-to-Stock, Kit-to-Order

No

Yes

Storage disposition / – reorganization

No

Yes

QM (e.g. pre-testing in production)

No

Yes

Advanced replenishment scenarios (Planned replenishment, automatic replenishment)

No

Yes

VAS (Labeling, Kitting)

No

Yes
In my opinion, StRM is still sufficient for simple manual logistics processes, even though many functions of LE-WM have unfortunately been eliminated. But SAPs goal is still to establish EWM as a logistics product. I already pointed out the roadmap SAP has presented to their SAP EWM product in a previous blog article.
If you have any questions when making a decision about a new logistics system within a transformation process, please feel free to contact us at any time. We look forward to a lively exchange with you.
Planned replenishment
Further optimization possibilities (sorting, storage groups)