Exactly one year ago, Michael Eberhard and Christian Gradt founded PRECOGIT GmbH.
This was preceded by intensive discussions with business friends, financial, tax and legal advisors, as well as various banks. In the end, the question was no longer whether we should found the company on our own, but what the first steps should be.
Today, a year has passed and it is worth taking a look back and determining the status quo. After the plan comes reality very quickly. We have consciously decided to always be curious and to allow new topics to come up apart from our plan.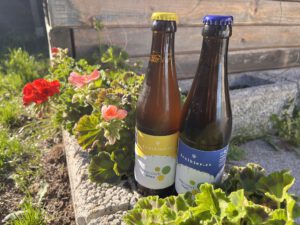 The networks in which we were already active before the foundation are important. So today we can look back on great conversations around the #BrauereiDerZukunft with brewers, plant manufacturers and SAP consulting partners. These conversations have confirmed our actions and encourage us to continue on our path consistently after this first year. We look back on consulting on holistic digitisation strategies, the creation of specifications and concept papers in the area of logistics/EWM and maintenance as well as analysis activities for the optimisation of existing SAP systems. All against the background of having add-ons and templates for the #BreweryoftheFuture in our own systems, on which we can revolutionise the classic consulting approach. We are happy to have stable partnerships with other (SAP) consulting firms (Varelmann Beratungsgesellschaft mbH, CONSILIO GmbH, smarter GmbH & Co. KG), universities (University of Paderborn, Westsächsische Hochschule Zwickau) and associations in the brewing and IT world (#WeihenstephanStandards, VLB Berlin, Deutschsprachige SAP-Anwendergruppe e.V. (DSAG), #IA4SP).
We will not be able to build the #BreweryoftheFuture on our own. Therefore, we have strengthened ourselves in the first months with 3 colleagues and 2 freelancers. Together we created a virtual brewery in SAP and the simulation software anylogic, with which we can actually produce our two beers – which, by the way, are available as a physical "give-away" – on the system side.
So far, we have marketed ourselves through our personal networks. This has already brought us some good references and people are talking to and about us. PRECOGIT is becoming better known in the industry and we receive enquiries from interested parties who have found us through articles in trade magazines or posts in social networks. At drinktec 22 in Munich, we received a lot of attention with our stand concept "#DenkBar" and are talking to well-known companies from the brewing and beverage industry. As a small preview of our marketing, we would like to mention our podcast, which will be created together with Brauwelt under the title "Bier & Bytes – Gespräche über die #BrauereiDerZukunft".
We came into contact with the #BetaCodex very early on in our journey: Planning has not been part of our activities since then! Rather, we are prepared to make decisions that are supported by everyone on the basis of the expertise of the individual colleague. The team decides within the sphere of our business, there are no hierarchies, we work together – for each other. For our colleagues and for us, this was and still is in part a challenge to live this very consistently.
Today we are celebrating PRECOGIT's first birthday. We are proud of what we have achieved together and are convinced that we are on the right path.